GleeCBD Oil Tinctures
FULL SPECTRUM CONTAINS < 0.3% THC
BROAD SPECTRUM CONTAIN 0.0% THC
Glee oil tinctures are mildly flavored and have a hint of sweetness from the organic coconut MCT oil. People find that our tinctures leave no bitter aftertaste because plant waxes and chlorophylls are meticulously removed during the extraction process.
Glee CBD products are rich in an array of beneficial phytocannabinoids beyond just CBD, such as CBC, THC, and CBG – important in creating the entourage effect (Broad Spectrum contains no detectible traces of THC or CBN).
Water Soluble Tinctures have a particle size of less than 40nm for quick and higher absorption.
No matter which product you select, you can trust that each one is crafted with care every step of the way.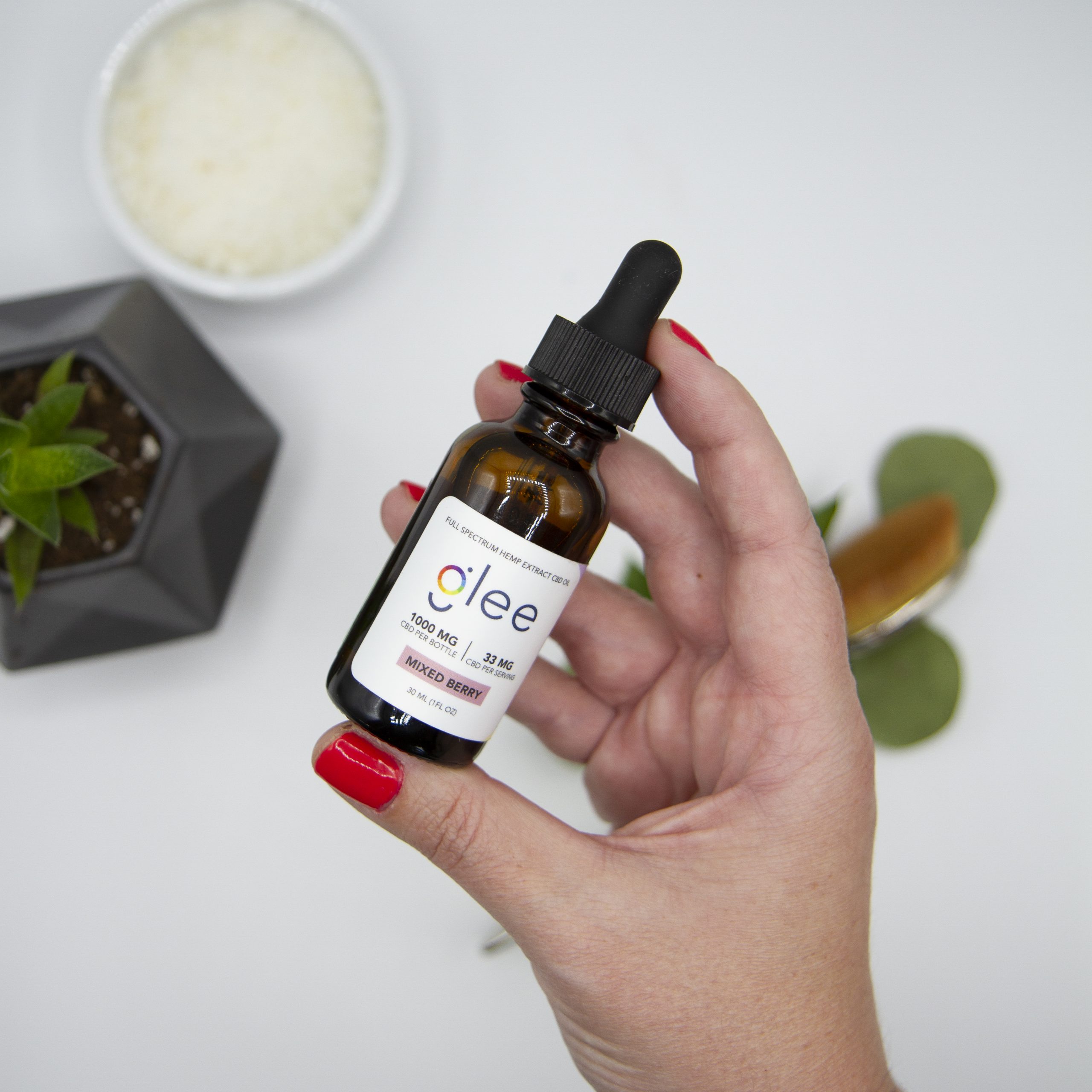 $15.00 – $49.00 — or subscribe and save 20%
FEEL AND TASTE THE DIFFERENCE
The clean taste of Glee CBD really does translate to a better experience.  We start with the full plant and extract and distill only the beneficial compounds.  We formulate our phytocannabinoid-rich hemp-derived CBD oil with Organic MCT oil.  Organic MCT oil is highly bioavailable, easy to digest, and also dubbed a super fuel.
WHY DO PEOPLE TAKE CBD OIL?
CBD oil can help manage normal stress, establish a sense of calm for focus, alleviate pain due to inflammation, and improve general wellness. It has a calming effect on the nerves and enhances your mental and your physical well-being. CBD is a natural plant-based molecule that resembles the human endocannabinoid system that is shown to help with both chronic conditions and to support overall mental and physical health
WHAT IS FULL SPECTRUM AND BROAD SPECTRUM? IS THERE THC?  WHAT SHOULD I BUY?
We always recommend buying Glee Full Spectrum (<0.3% THC) CBD Oil over Glee Broad Spectrum (No THC) CBD Oil because while the trace amount of THC will not give you a high feeling if adhering to normal dosages, when combined with the other cannabinoids (CBD, CBG, and hundreds of others), THC is a vital ingredient in creating what is called the Entourage Effect. While Broad Spectrum is slightly less effective than Full Spectrum Oil, it is superior to CBD isolate-based oil tinctures.
Broad Spectrum Oil should be ordered: 1) if you are concerned about a drug test – there is a slight chance that the trace amounts of THC in Full Spectrum will show up, and 2) for personal or religious reasons, cannot consume THC.
Use Glee CBD to heal with plants, not pills
Subscribe for updates & promotions
Receive 15% off for subscribing today!